By Xu Fan | China Daily
Updated: June 13, 2019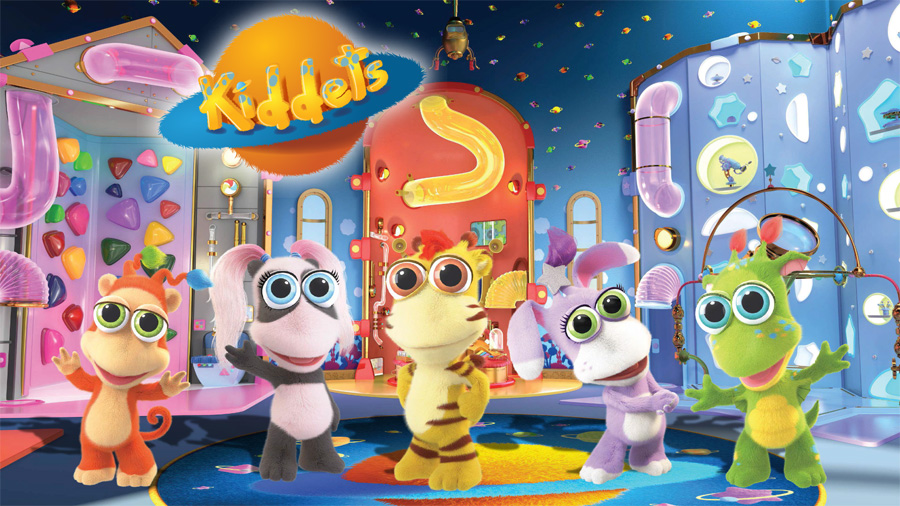 A still image of preschool TV show Kiddets, the first official China-New Zealand coproduction of an animated series. [Photo provided to China Daily]
In a bid to reach a wider audience, visual content producers from both home and abroad are collaborating more than ever before, Xu Fan reports.
American scriptwriter and creative content consultant Ryan Wilson, who has always had a fascination with China, mostly through its films, now sees it as a second home full of opportunities.
As a native growing up in Long Island, New York, Wilson remembers that he spent most of his weekends back in the 1990s watching the action films of kung fu giants, Bruce Lee and Jackie Chan. The latter's action comedy, Drunken Master II, was his favorite.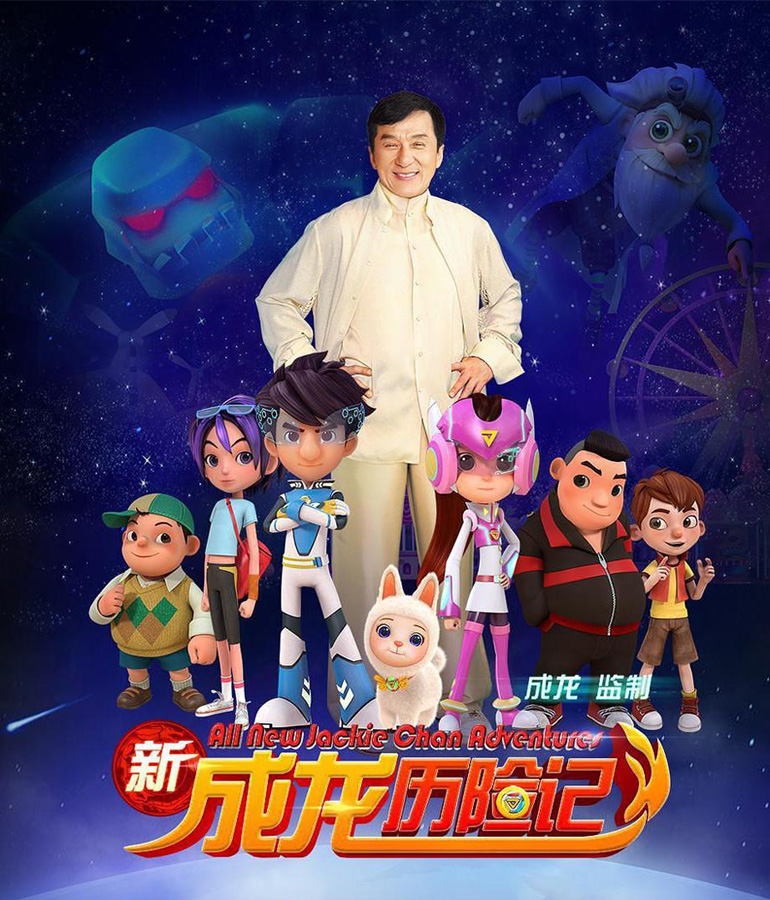 A poster of the Chinese animated series All New Jackie Chan Adventures. [Photo provided to China Daily]
So, when he moved to China around eight years ago and got a job occasionally polishing scripts for the Chinese animated series All New Jackie Chan Adventures, he was very excited and succeeded in persuading the show's Chinese investors to include him as one of the scriptwriters, where he penned five episodes.
"If you are brave enough to speak up and show yourself, you will find many opportunities in China, especially in the creative field," says Wilson, 44, who has married and settled down in Hangzhou, the capital of Zhejiang province.
Now focused on developing his own animated TV series, Bad Peanut, about an anthropomorphic peanut who is naughty like a child, Wilson says he has tried to seek partners or investors in the country.
With its burgeoning entertainment industry, China, the second-largest film and TV market in the world, is seeing more and more foreigners seeking collaboration and opportunities.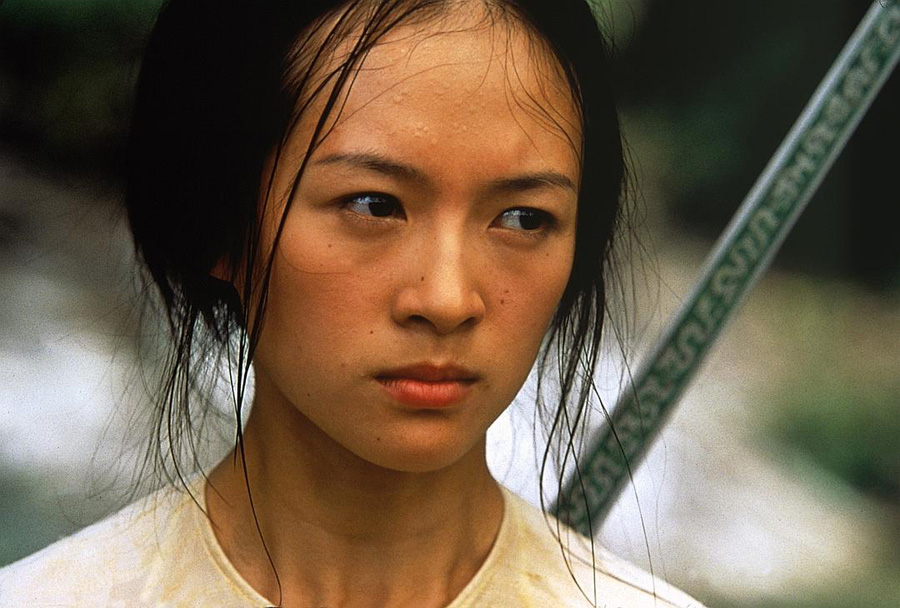 A still features Zhang Ziyi's character in Crouching Tiger, Hidden Dragon. [Photo provided to China Daily]
One of the latest events to bridge the divide between Chinese industry insiders and their counterparts in the rest of the world is the MIP China Hangzhou International Content Summit. Recently concluded, the event gathered around 320 representatives from over 170 companies of 22 countries and regions, including the United Kingdom, Japan, Russia and Italy. According to the organizers, the number of attending companies rose by 15 percent compared to last year.
MIP-or Marche International des Programmes-is a global distribution marketplace for entertainment content. It was launched more than 50 years ago in Cannes, France, and has evolved into the largest event of its kind in the world.
The three-day event held from June 5 to 7 saw 166 initial cooperation intentions reached, worth a total of 100.2 million yuan ($14.5 million), a rise of 20.8 percent year-on-year.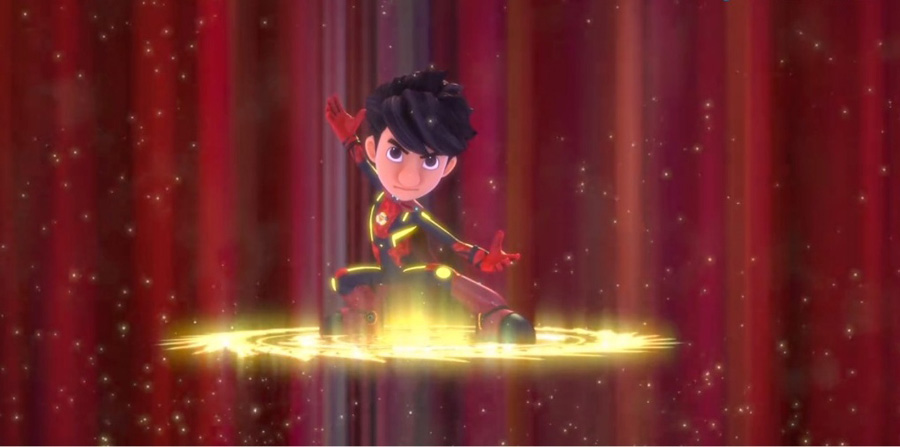 Jackie, a young hero and the protagonist of All New Jackie Chan Adventures. [Photo provided to China Daily]
Ted Baracos, MIP China director, said that historical Chinese period dramas are popular in Japan for their spectacular sets and fancy costumes.
"There are many great stories made in China, but it's still hard to bring Asian content to Europe or North America. One of the problems is the language barrier, as most Western audiences prefer to watch TV series spoken in their own languages," says Baracos.
He adds that the gamut of human emotion is the same all over the world, and he believes that international cooperation will help Chinese stories to be better told and more easily understood by foreign audiences.
But for Sean Chu, CEO of Beijing-based animated company WeKids, international coproductions-a buzzword over recent years in the film and television industries-are actually very complicated to organize.
He says Chinese companies must hire legal professionals to clarify policies in partner countries.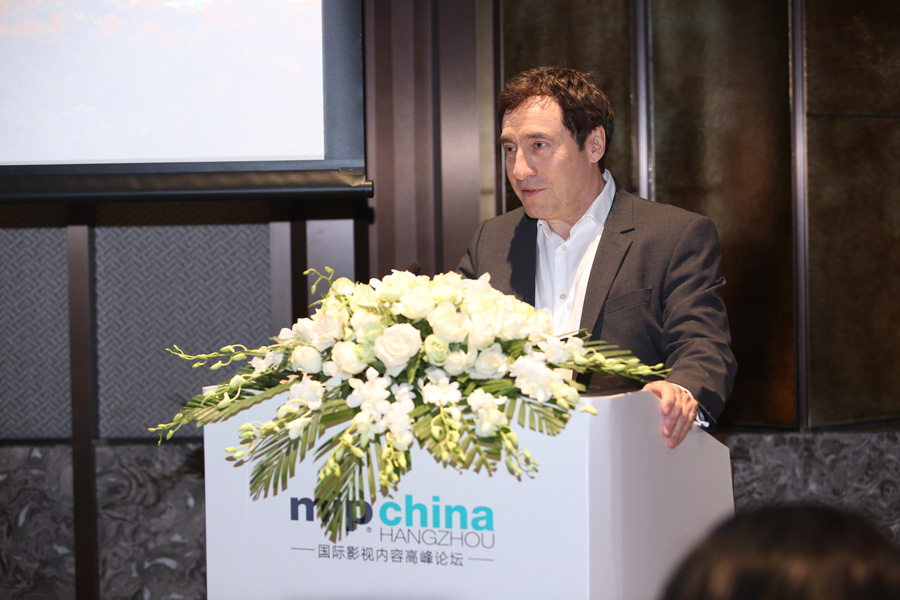 Ted Baracos, MIP China director, gives a speech during the MIP China Hangzhou International Content Summit on June 5. [Photo provided to China Daily]
"I've heard of one incident where a Chinese company spent a lot to market their shows at an MIP event in Cannes several years ago, but unfortunately, they hired a tour guide to translate in an important meeting. As the guide knew little about the TV and movie industries, the meeting ended up being a disaster," Chu recalls.
Pablo Meng, head of international cooperation with the Beijing-based Hengxin-Shambala Culture, echoes that his company's preschool TV show Kiddets, the first official China-New Zealand coproduced animated series, was the first to have qualified bilingual coordinators among the crew. This is because a lot of animation productions involve technical and creative jargon that can be ambiguous and esoteric, and often prove to be too difficult for ordinary translators to grasp.
He touched on many aspects of the coproduction process, including the need to prepare a lot of extra material, such as seasonal animation style guides, director's acting reference videos for each episode, verbal notes for each shot and subsequent iterations in order to cover the gaps in culture and language-all to ensure that the whole team was on the same page, creatively.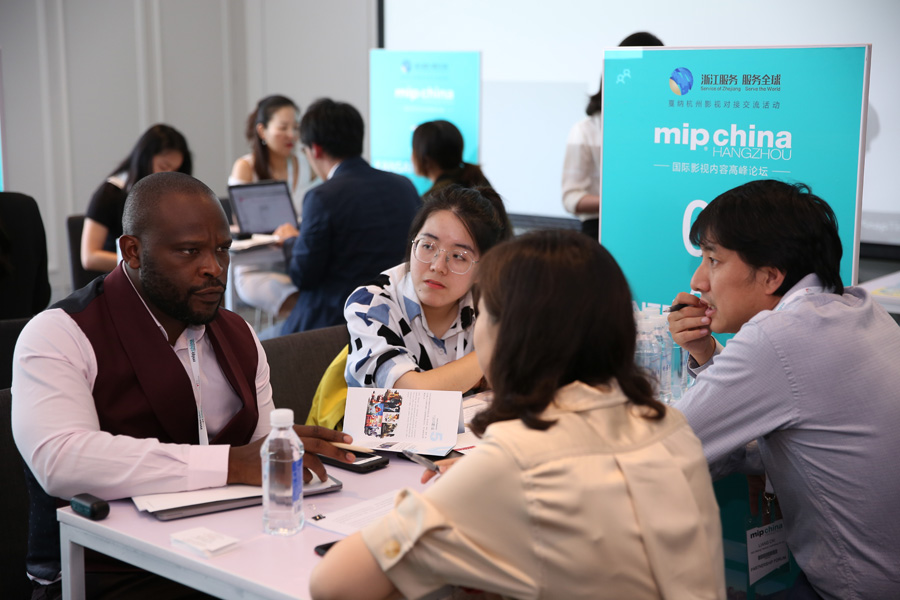 Representatives from domestic and foreign companies held one-to-one meetings to discuss details on cooperation during the Hangzhou event, held in the capital of Zhejiang province between June 5 and 7. [Photo provided to China Daily]
He also emphasized the need to use appropriate communication tools instead of relying on instant messaging apps like WeChat or QQ. A consistent software environment and a solid database architecture, he believes, are essential IT elements that a lot of Chinese animation studios are currently missing.
Huang Dai, senior vice-president at Sony Pictures, says international coproductions-seemingly an effective way to enter the respective markets of the companies involved-work best when they focus on one market at first with specialized, localized content.
However, she adds that an emotional story projecting universal values can also travel well across borders. Giving the example of Ang Lee's Oscar-winning film, Crouching Tiger, Hidden Dragon, she says that Yu Jiaolong, a local governor's daughter played by actress Zhang Ziyi, who is inexperienced but embarks on an adventure, was a relatable character to Western viewers.
According to industry insiders, with Chinese content-makers yearning for more international exposure, cooperation with foreign players is likely to deepen.
Contact the writer at xufan@chinadaily.com.cn